Our range of PVC products consists of three main product groups: windows, doors and sliding doors. Three models of windows are available: common tilt and turn European type windows, traditional outwards opening Scandinavian windows and the most advanced top swing windows. The assortment of doors consists of inwards opening balcony doors, outwards opening terrace doors and a variety of front doors. The sliding doors come in two systems: tilt and slide and lift and slide doors. All described PVC products are available in a wide range of decorative colors and come with micro-ventilation as standard.
Sliding doors and folding doors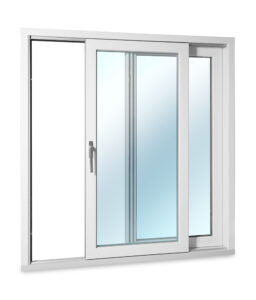 It does not matter whether the door is open or closed, either way, the room is flooded with light. Sliding elements are a classic design features in modern living, with large expanses of glass conveying a feeling of well-being and elegance. Our HST doors are fitted with a low aluminium threshold and there is a choice between 3 glazing options (double glass, triple glass and triple glass Energy).

HST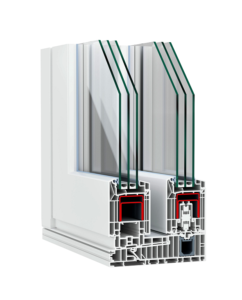 Constr.depth 190mm
Double gasket
U-value 0,69
Send request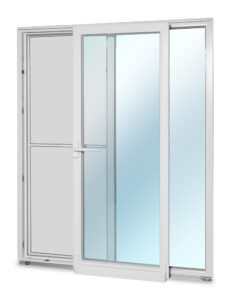 This well designed and practical sliding door system is multifunctional and at the same time easy to use. In addition to a slide opening function it also includes a tilt function for ventilation purpose. Our tilt and slide doors are available in two profile systems (SeiCom Classic and SeiCom Premium) which can be combined with three standard glazing options (double glass, triple glass and triple glass Energy).
PVC PSK Tilt & Slide doors profile types:
SeiCom Classic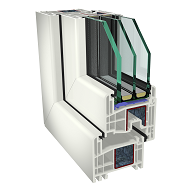 Constr.depth 74mm
Double gasket
U-value 0,82 – 1,33
SeiCom Premium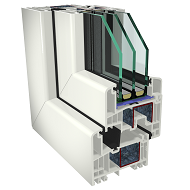 Constr.depth 82,5mm
Triple gasket
U-value 0,7 – 1,28

Send request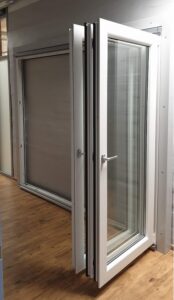 Our bi-folding doors are especially practical with versatile opening possibilities. The active door can be used as a regular door and, unlike a sliding door, the folding function allows to open the entire width of the door. Our product range includes both, inwards and outwards opening folding doors.
Send request